Liviu Bulea,
"Under the Grey Dust"
creart Gallery
Alexandru Lahovari Square no. 7, Bucharest

November 8 - December 8, 2018

Opening: November 8, 2018, 19:00

Curator: Răzvan Ion
Back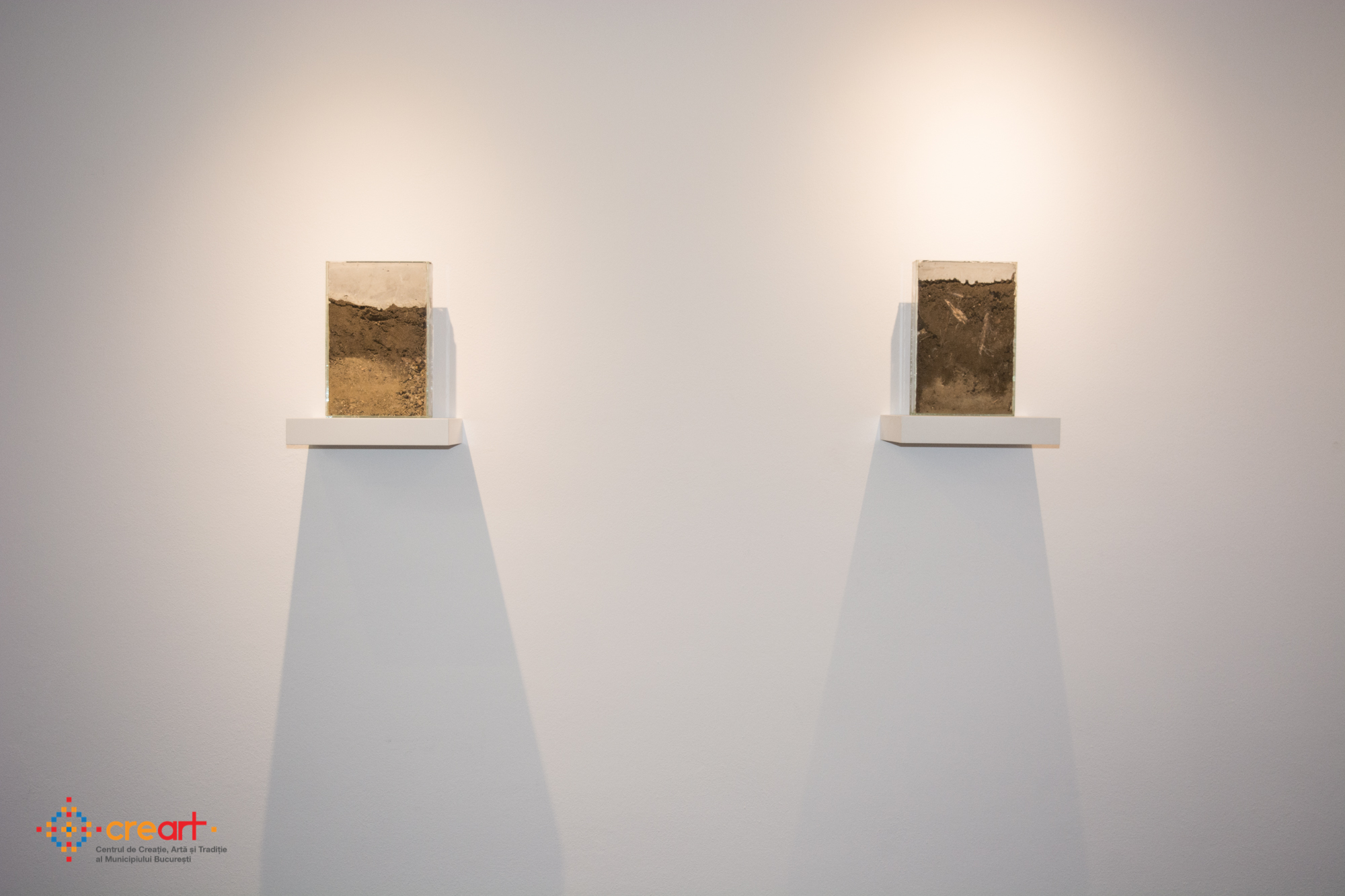 Liviu Bulea,
"Under the Grey Dust"
creart Gallery
Alexandru Lahovari Square no. 7, Bucharest

November 8 - December 8, 2018

Opening: November 8, 2018, 19:00

Curator: Răzvan Ion
Back
"This work represents a garden designed and built for the present exhibition. It represents a childhood memory of the gardens surrounding the cement factory in Turda. Because of the excessive pollution, all the fruits, vegetables and plants around the area of the factory were covered in cement, and when it rained, they all became cemented. The entire town was covered in a thin layer of cement; even on spring mornings when my mom was taking me to kindergarten I had the feeling that it had snowed, because of the covering layer of white powder
This garden also represents a metaphor of how we, as a society, surround ourselves with concrete, thus nature becoming a luxury, a place that we visit in our free time. We are estranged from nature, and our 'natural' habitat has become concrete walls, roads, and sidewalks which we roam on a daily basis in cities which, especially in Romania, have slowly destroyed and got rid of most of their parks and gardens." (Liviu Bulea)
"Liviu Bulea creates question marks that urge to research and action. Although he exhibits and travels far beyond his country, he remains faithful to the community where he comes from, and causes the spectator (in the sense of Giovanni Sartori) to imagine the life of urban residents in the areas he is researching. He exploits colours, grays, rough textures where simple juxtaposition of materials suggests profound interests in putting people together and the problems they face in everyday reality.
It somehow disturbs me (in a positive sense) that Bulea can use materials that at rst use appear to be trivial, and somehow takes us back to the formalism of the 1960s, but which, gradually, reminds us of the oppressive reality. An interesting move that reminds of Jacques Rancière's "The Politics of Aesthetics." (Răzvan Ion)
Liviu Bulea is a 29-year-old artist who lives and works in Cluj-Napoca, Romania. He studied at the University of Art and Design in Cluj-Napoca between 2008 and 2013. He exhibited at the Iaga Gallery, Cluj-Napoca; Shelter Club, Amsterdam; Mora Gallery, Bucharest; Parallel Vienna, Austria; Make A Point, Bucharest; Visual KontaKt Gallery, Cluj-Napoca and Oradea; Art Museum Jurmala, Latvia; ASP Katowice, Poland; the 4th edition of the International Student Biennial in Novi Sad, Serbia, Bucharest Biennale 8, etc. He participated in the following residences: Styria AiR, Graz, Austria; Reactor de Creatie si Experiment, Cluj Napoca, Romania; Kulture Kontact Vienna, Austria; Visual KontaKt in Oradea, Romania.
Răzvan Ion is a theoretician, curator and cultural manager. He was an associate professor at University of California, Berkeley; Lisbon University; Central University of New York; University of London; Sofia University; University of Kiev; etc. He has held conferences and lectures at different art institutions like Witte de With, Rotterdam; Kunsthalle Vienna; Art in General, New York; Calouste Gulbenkian, Lisbon; Casa Encedida, Madrid etc. He is the co-founder of Bucharest Biennale, Pavilion Journal and Reforma Photo Days (toghether with Eugen Rădescu). He was a professor at the University of Bucharest where he teached Curatorial Studies and Critical Thinking. Recently he was the curator of Bucharest Biennale 8, together with Beral Madra.