Loredana Stancu,
"Two different constructs. A postcard as souvenir"
creart Gallery
Alexandru Lahovari Square no. 7, Bucharest

June 27 – August 11, 2019

Curator: Cătălin Burcea
Back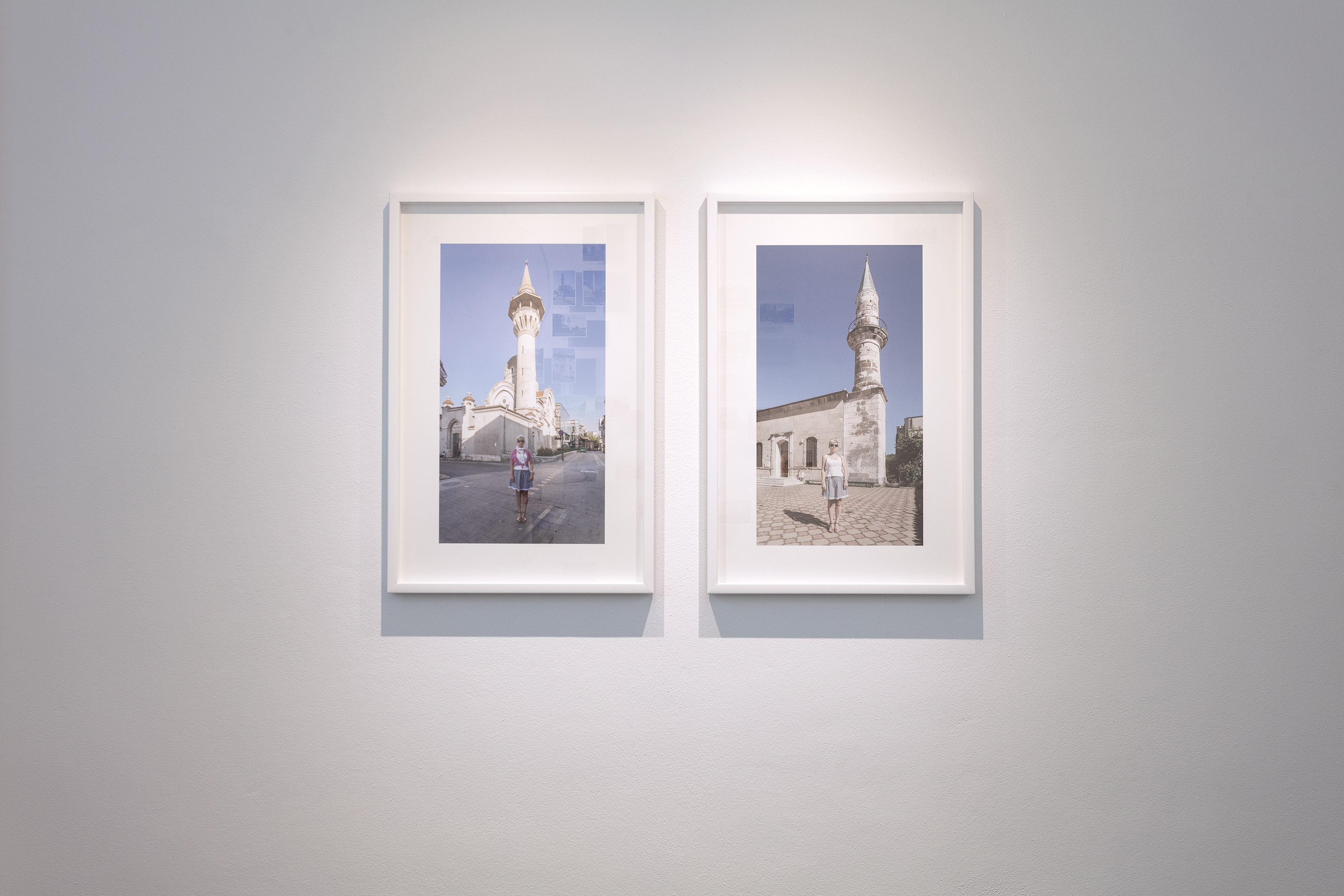 Loredana Stancu,
"Two different constructs. A postcard as souvenir"
creart Gallery
Alexandru Lahovari Square no. 7, Bucharest

June 27 – August 11, 2019

Curator: Cătălin Burcea
Back
"Two different constructs is the project where I archive iconic images which belong to a geographic area - Dobrogea - that supported successive stages of massive population movements, from and towards Asia, which successfully experimented the concept of good neighbouring and conflict avoidance for tens of generations.
On a historical scale, the migration can be seen as an ongoing process, the element of a complex and invisible system which "drives" us and which re-establishes, at apparently random time intervals, the geostrategic map of resettlement routes.
The change of perspective in the way we approach cultural, political, religious differences leads to the construction of a new logic, capable of harmonising contrasting elements, of dissolving borders, of smoothening misconceptions and of generating a pacifying mission.
In Two different constructs, I propose tolerance and acceptance as essential tools for adjusting aspirations and interests, therefore removing any kind of domination." (Loredana Stancu)
"In Two different constructs, the work-in-progress project of Loredana Stancu, we deal with a somehow joyful meeting, at least for now…
On one side is the western woman, modern, free of all constraints. On the other side is a type of construction with different architectural specifications, an easily recognisable landmark of a conservative religious culture.
We refer here to the constructions of the Islamic cult - masjids, mosques etc.
Loredana Stancu is fascinated by these atypic constructions whose minarets, most of them, are thrown towards infinity in a decisive way, almost violent, however - on a subliminal level - she realizes the contrast between the two entities: herself versus the construction per se.
In over 3 years of analytic work, Loredana Stancu rigorously documented a series of akin constructions which describe an imaginary course filled with seduction, the map of a familiar territory - Dobrogea - the place where different cultures coexist in a natural and enchanting way through diversity and colour.
In front of every construction, the artist has photographed herself, full figure, vertical as the minarets, precisely like a postcard as souvenir, to recall a normality possible at one time.
Two apparently incompatible constructs meet casually at the same time, in the same space.
Here, now, this kind of meeting is still possible. It is unknown for how long. In a future governed by increasing intolerance and radicalism, this type of normality is questionable.
Even so, how can this normality be preserved?
It depends on many factors which rather relate to how the social, political, economic, religious layers will settle.
It depends on how the organic fibre of human civilisation will function in the near future.
It remains to be seen…" (Cătălin Burcea)
Loredana Stancu is an visual artist. She works and mainly exhibits photography and drawings, these being her favourite mediums, however, for specific projects, she sometimes also uses painting or video. In her long-term projects, by reflex she researches and archives symbols, stereotypes, iconic images specific to different cultures/civilisations. Without claiming to decrypt their semiotic valences automatically, she is interested in the way the actual image is constructing itself and what are the parameters which determine its power of seduction. Given the relatively long periods of the work-in-progress type projects, she exhibits extremely rare and only to point out, when needed, some essential registers in the structure of her projects. In 2011 she exhibited at ALERT studio her first series of photographs in the form of an oversized photo-installation called "The Particle Moderator", the first act of the "Urban Signs" archive. Her artistic practice currently assumes numerous minimalist-subversive interventions in public or alternative spaces in different locations like: Berlin - 2005, Athens - 2007, Kassel, Frankfurt, Linz, Brno - 2007, Istanbul - 2005, 2011, Paris - 2008, Warsaw - 2014, Vienna - 2014, 2016, Cluj - 2017, Bucharest - 2000, 2003, 2009, 2018. She works and lives in Bucharest.
Cătălin Burcea is an visual artist, co-founder and project coordinator of ALERT studio, an artist-run space in Bucharest. Between the years 2009-2018, he curated a series of projects of the "White Code" program platform at ALERT studio. In 2014 he also curated the "Multo Post Futurum" exhibitions within the New Energies event (Romania Focus), organised by ViennaContemporary – Vienna, as well as "1'45" / A great future is behind us" at Contemporary Art Ruhr - Essen. Among other things, as an artist he exhibited at JCE Biennale (6), Beffroi de Montrouge, Paris; AltroQuale, Jesi, Ancona; National Contemporary Art Museum, Bucharest; Victoria Art Center, Bucharest; Calina Gallery, Timisoara; ARCUB Gabroveni, Bucharest; ALERT Studio, Bucharest; VIENNAFAIR, Vienna; Contemporary Art Ruhr, Essen; Centre for Contemporary Art Ujazdowski Castle, Warsaw; Spatiu Intact Gallery, Cluj-Napoca; Knoll Gallery Vienna; The Paintbrush Factory, Cluj-Napoca. Recently he was selected to represent Romania in the exhibition "How We See Things" organized on the occasion of the Austrian Presidency of the Council of the EU. He lives and works in Bucharest.